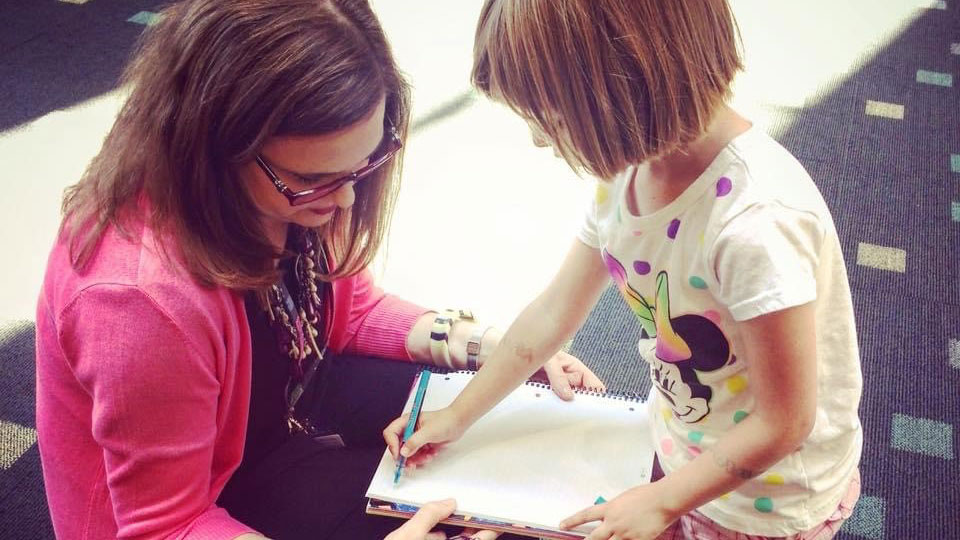 Background
Meet Jennifer Pace Robinson
Visionary, Explorer, and Storyteller
From education advocate and archaeologist to mom and jewelry maker, Jennifer Pace Robinson's background and talents are diverse! Described as bold, colorful, funky, and magnetic on the one hand, she's also a deep thinker, empathetic, inquisitive, and a good listener. All of these qualities come together to propel her into the biggest adventure of her life—CEO of the world's largest children's museum!
Even if you haven't seen her around the museum, you've seen her work in nearly every aspect of the museum experience. Some of her trademarks and areas of expertise include:
Tackling tough topics and making them accessible to children and families as in The Power of Children&reg exhibit.
Building full-sensory experiences that immerse you in other places and times, such as Dinosphere®.
Perfecting the relationship with brands to bring commercial properties like Dora the Explorer and Barbie to the museum and using nostalgia to spur multigenerational learning and sharing.
Using real, iconic objects and theater to bring stories to life.
Building relationships with international institutions and governments that allow us to bring you exhibits like King Tut; Take Me There: Egypt, Greece, and China; and Terra Cotta Warriors.
Creating an exhibit development process that is sought after by other museums globally.
Helping build children's museums in Egypt, China, and South Korea.
When she switches gears to "mom mode," Jennifer Pace Robinson can be seen driving kids to band practice, scheduling doctor's appointments, or helping with college admissions for three of her five kids. She's excited to bring this aspect of her life to her work at The Children's Museum—her perspective of being a busy mom, her philosophy on shaping young minds, and her passion for allowing kids to explore and create.
What can you expect at the museum?
Some of Jennifer's top priorities and initiatives include:
Advance the museum's efforts on diversity, equity, access and inclusion.
Elevate lesser known stories and voices through new experiences and programs.
Foster multi-generational engagement to produce a culture of young learners.
Strengthen collaboration with neighborhood families and provide learning resources and opportunities.
Grow the museum's reputation as a regional family friendly destination.
Expand efforts to offer digital content and virtual experiences to engage audiences.
Foster innovation in early learning by continuing to build partnerships with top-name content and media providers, museums, universities, and international ministries of culture.
Launch a centennial capital campaign as we approach the museum's 100th anniversary.
Meet Jennifer!
Husband: Martin Small
Children: Five children (two sons and three daughters), Kenya (26), Skylar (19), Zachary (18), Ryane (17) and Skyler (15)
Hobbies: trail running, art, travel, visiting museums, photography, and swimming
Education: She holds a bachelor's degree from DePauw University in Communication. Her master's degree is from Indiana University in Curriculum and Instruction from the School of Education. She also studied in Athens, Greece at College Year in Athens (archaeology).